55kgという名のGT
大魚とスピニングハーネス
2時半、ぼくのロングペンにアカマスの群れが襲いかかった。と、その時、横から黒い影がルアーをかすめる様にバイトした。"ドンッ"鈍い衝撃がロッドから伝わる。かなり強引に合わせてから、ロッドを少し寝かせて魚を止めた。魚は直ぐに止まった。"アカマス"かな・・?と、心のどこかで思った。次の瞬間にラインは激しく引き出された。もう一度プレッシャーをかけて、エッジの手前で魚を止めた。感覚的に大魚である。ここからエッジに沿って泳ぎ出したのを確認してから、沖に泳ぎを誘導する。大魚は、ドーニーの船首から前に100m先をゆっくりと沖に向かって泳ぎ出している。ぼくは、無駄な刺激を避けて泳がせた。大魚は、船首を中心に半円を描くように沖に向かって止まった。ぼくは最近開発したスピニングハーネスでRSを固定すると両手から力が抜けるのを感じた。ヒップと腰からホールドベルトを取るこのハーネスは、大魚とのやり取りだけを考えて作ったものである。
実際今までぼくが本気で使ったのは6月に釣った300kgの鮫ぐらいで、後はほとんどがテストのためである。それに腰を常にホールドしてくれるので、GTFのように一日中立ち続ける釣りには腰を痛めないで済む。
大魚の制御
ボートをバックさせて、再び船首の方向に魚とのポジションをとった。ここからが勝負である。大魚は完全に動きを制御されたことを不快に思ったのであろう。再び沖に向かってラインを引きずり出すが20mも行かない。また、半円を描きながらボートに近づいてくる。魚の動きを計算してボートをゆっくりと後進させた。大魚はボートに気がついて深く沈もうとした時には、既に間合いは30mを切っていた。"せいぜい潜って20mだ・・"と、心の中で思ってリフティングを始める。1回のポンピングでリールは2回巻けた。
つまり、2mづつ浮上しているのである。大魚は自ら泳いで上に上がって来ていることを意味している。ぼくは、大魚のリズムに合わせてポンピングを繰り返す。ヒットしてから5分後、15mの水深で大魚は横に平を打ち始めた。ゆっくりと回るように船首の直下でグルグルと泳いでいる。5分30秒、巨大なGTの形が水面下に見えた。
<![if !vml]>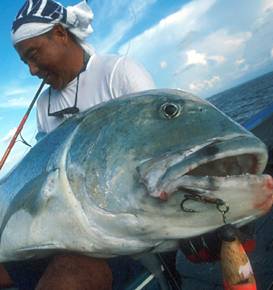 <![endif]>
GT named 55kg
Big fish and Spinning harness
The school of Twinspotted snapper pounced on my LONGPEN at p.m 2:30. Then, a black shadow bit the lure as skim from the side. The blunt shock as "Bang" is transmitted from a rod to me. After I fit this shock and uniting quite forcibly, I laid down my rod and the fish was stopped. The fish stopped immediately. I thought "Twinspotted snapper…?" by somewhere my hearts.
The line was pulled out violently at the next moment. The fish was stopped before the reef edge by I put under pressure once again. I felt that this is big fish. After I checked GT begun to swim along with reef edge from there, I guided GT to swimming the offing. Big fish is beginning to swim from the bow of dohni in 100m beyond toward the offing slowly.
I avoided getting this fish useless stimulus and let this fish swim. Big fish swam to the offing and he stopped as a semicircle might be drawn focusing on a bow. When I fixed the rod by the spinning harness developed recently, I felt that power fell out from both hands. This harness is fixed the rod by the hold belt from hips and the waist considers and makes only the fight with big fish. I actually used until now is I fished the 300kg shark only in June, and the others is for most is a test.
Since the fishing continues standing like GT fishing all day long, because this harness always fixes the waist to it does not hurt the waist.
Control of big fish.
I made the boat back and took the position with a fish in the direction of a bow again. It is a match from here.
Big fish would think as unpleasant that the motion was controlled completely. Although big fish dragged out the line toward the offing again, it does not go 20m
Moreover, big fish approaches a boat, drawing a semicircle. I calculated the motion of a fish and the boat was reversed slowly. When big fish tended to notice the boat and tended to sink deeply, the distance had already 30m.
Because I thought "big fish go under at most, and it is 20m."in my heart, I was able to be rolled the reel twice by 1 time of pumping. That is, GT has gone up to surface every 2m. And it means that big fish swims himself and has been going up upwards. I repeat pumping according to the rhythm of big fish. Big fish began to shake a caudal fin horizontally with the depth of water of 15m after 5 minutes from GT strike.This fish is swimming directly under the bow with round and round so that it may turn slowly. The form of huge GT was in sight under the water surface for 5 minutes and 30 seconds
<![if !vml]>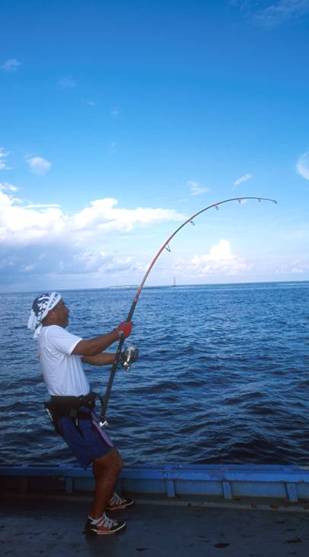 <![endif]>

FISHERMAN・GT・GAME・T RSの美しいベント。

ロッドを通しラインの向こうには、大魚がいる。

55kgGTとのドラマは6分間続いた。

The beautiful bent of FISHERMAN・GT・GAME・T RS.

There is big fish through the line.

The drama of I and 55kgGT continued for 6 minutes.

「大きい!」誰かが、叫んだ。

「大きい!!」また、誰かが言う。

ショックリーダーが見え、キャプテンがリーダーをとる。テーラーが尾鰭に吸い込まれるようにかかった。

"ついている!!"と、なんとも言えない満足感が広がり始めた。

しかし、大魚は重過ぎてなかなか持ち上がらない。キャプテンは上半身を海面に折り曲げてロングペンをつかんだ。ロングペンには、自分で開発した試作品のトリプルフック"KG120 6/0"が1本付いているだけである。このまま持ち上げてフックが伸びたら、「万事休す」になるのである。あのままフックが伸びたら、テーラーはその衝撃でワイヤーが抜ける"と思ったけど、どうしようもないのでクルーを見ているだけである。

"ついている・・"再び心の中で思って目をつぶった。

「でけぇ〜!!」と、小林君の声が聞こえた時、大魚はデッキに上がっていた。

検量はしなかったけれど50〜60kgぐらいはありそうなので55kgとした。写真を撮ってリリース。なんとも嬉しい1匹である。

南海島小紀行     

モルジブ釣紀より抜粋

2001年11月

ロッド・・GT・GAME・T 78RS

ルアー・・LONGPEN100

ライン・・MAXPower6号

ショックリーダー・・スーパーステルス170lb

Someone shouted, "It is large!" Someone says again, "It is large!!" The shock leader appeared and the captain took the leader. The satisfaction began to spread in me.

However, big fish is too heavy and we couldn't lift easily. The captain bent the upper half of his body to the sea surface, and took LONG PEN.

A 1 hook in a triple hook"KG120 6/0" of the trial product developed personally are only attached to LONGPEN.

If we land this fish and a hook is extended, it will become "it's all over."

Although I thought the wire that tied to the caudal fin come off by the shock that the hook was extended, since there is also no method of comrades, I seen the crew only.

"I am very fortunate…"I thought again in my heart with I closed my eyes.

"It is so large!" Mr. Kobayashi's voice were able to be heard, big fish was landed to the deck. Although we didn't measure this fish, since it was likely to be, about 50-60kg was set to 55kg

. I was taken photographs and released. It is very delightfull one.

An extract of the serial

"The little fishing trip in the Islands in the south sea" by Suzuki Fumio

2001/Nov

<![if !supportMisalignedColumns]>