FISHERMAN
3D super cool power glove
FISHERMAN"the pioneer of saltwater fishing gloves"
produced the new gloves that is the new feeling of 3D sewing up,
海のルアーフィッシンググローブの元祖FISHERMANが作った
3D立体縫い合わせの新感覚フィッシンググローブ
<![if !vml]>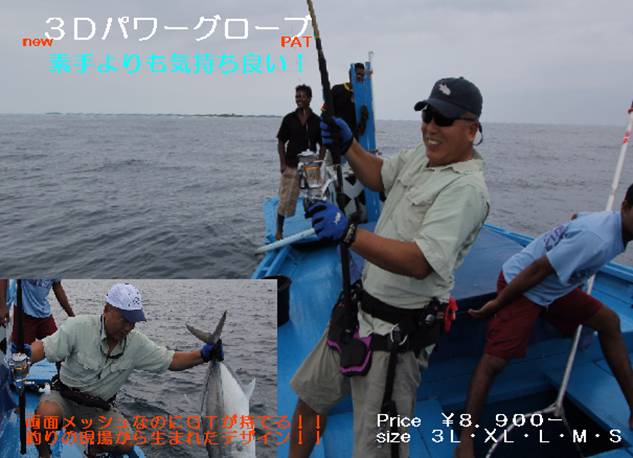 <![endif]>
<![if !vml]>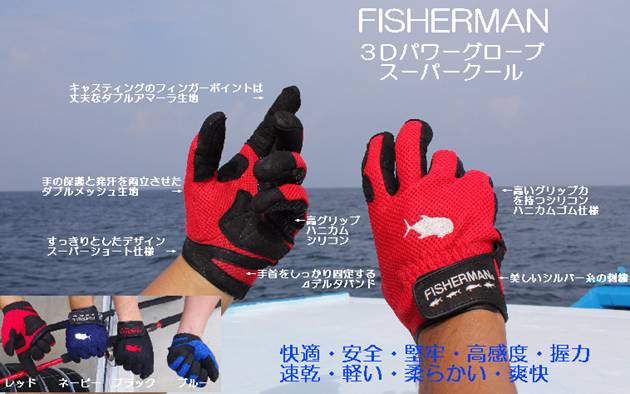 <![endif]>
3Dパワーグローブ・スーパークールは、手が休んでいる形とロッドを握っている形の実践研究から
生まれました。手の平部にメッシュ生地を使うことで、不快な手平に掻く汗を防ぎ、乾かすと同時に
圧迫感が軽減します。また、従来のフィッシンググローブの半分の時間で乾くのも魅力です。(当社比)
3Dパワーグローブは、海のルアーフィッシンググローブの元祖、FISHERMAN社の15年の実践キャリヤが、
現場主義で作り出した第2世代のスーパークールです。
手首にはスーパーショート+三角形のデルタバンドを採用し、手首の締め付け負担を無くすると同時に
心地よいフィットを実現しました。
3Dパワーグローブは、キャスティングに使う人さし指をダブルアマーラで補強し、
力の入る小指と薬指はアマーラ+ハニカムシリコンゴムを採用しました。
日本の3D裁断&縫い合わせ技術で、50ものパーツから立体的に組み立てられた
匠の技の3Dパワーグローブです。
<![if !vml]>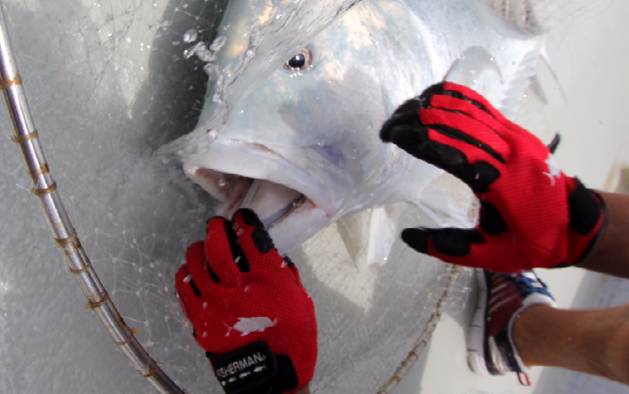 <![endif]>
3D super cool power glove was made from the practice research of holding the grip of rod. 
it is the shape of resting the hand
This gloves reduce an unpleasant sweat by using the mesh fabric for the palm.
It is easy to dry, and reduce the sense of oppression
It is attractive that the gloves are dry at half the time of normal Fisherman glove
(Ratio of our company)
<![if !vml]>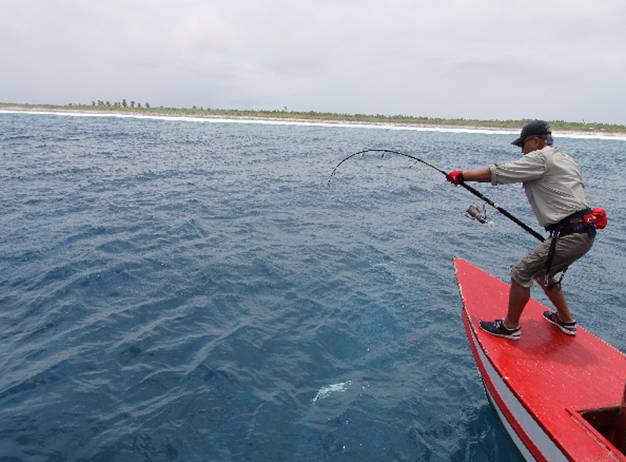 <![endif]>
3D power glove is the second generation super cool glove.
It was made from the Fisherman company's 15 years product career.
The super-short delta band was adopted in the wrist part of this gloves,
and the tightening feeling of the wrist was lost.
Comfortable fit.
3D power glove reinforced the index finger with double amara
Ring finger and little finger are coated with amara+honeycomb silicon rubber.
It is an art of superior Japanese 3D cutting & needlework.
It is a glove of an excellent technique three-dimensionally assembled with 50 parts.
■ カラーは ブルー レッド ブラック ネービー 全4色
■ Size 3L XL L M S の全4種類  
■ ご注文はお近くのFISHERMAN取扱店へ
■ お問い合わせはFISHERMAN TEL0980-83-5318または メールgiant@bronze.ocn.ne.jp 
■ 通販ご希望の方はメールオーダーください。
■ Please mail order. giant@bronze.ocn.ne.jp
How to order ←CLICK

Order sheet  ←CLICK

FISHERMAN

"required thing makes"

<![if !vml]><![endif]>

-- it is the idea of our company We make our goods with idea.

We repeat the field test at the numbers of times,

and we pursued the ease of using, durability, the material, etc..

And we made what can bear even the environment of the sea
FISHERMAN